A Rocha in action for COP21: two major meetings
Sunday 29 November, the big march!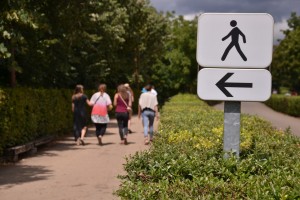 Pilgrims to the climate change event and people from all walks of life will be marching all over the world on Sunday 29 November:
• Demonstrating solidarity to show world leaders the compelling and urgent need to engage effectively on climate issues.
• Witnessing to an individual and collective desire to live more in tune with our "common home"
A Rocha specifically invites each of its members and everyone who is concerned about environmental issues, to join us, preferably in Paris, or if not, in your area, for this big march.
In Paris, on 29 November, A Rocha, with national and international delegations, will witness by our presence that being a Christian is also to be engaged, supportive and active! We will demonstrate our shared solidarity with individuals and activist organisations for more equality, justice and attention to the environment. The participation of Christians will testify that they are motivated by spiritual foundations.
We hope to see many of you! Look for the banner of the Fédération Protestante de France, which will be our assembly point.
________________________________________
Saturday 5 December: The conference

We are delighted that there are many statements and comments on this subject. But there is nothing like a "live" meeting with experts, specialists not only on climate, but on the Christian approach to the subject.
To contribute to reflection on climate change within the framework of COP21, A Rocha is organising, in partnership with the Lausanne Movement for Safeguarding Creation, and other Christian organisations .
For full details, including how to register, please see "A Christian Response to Climate Change"
The presentations are either in French or in English, and will be given simultaneous translation into the other language. (Places and headsets for the translation are limited, prior reservation on line is strongly advised.)
We look forward to seeing many of you!

Note: We are looking for families in the Paris regions who could give hospitality to speakers or members of the A Rocha International team for one or more nights during the period 26 November to 11 December.
Contact: J.F. Mouhot; [email protected]
Jean-Pierre CHARLEMAGNE
(thank to Alison Walley for the traduction)