Alejandra: story of a European volunteer at Les Courmettes
Hello everyone! I'm Alejandra, from Spain, and I'm a volunteer with the European Solidarity Corps for one year.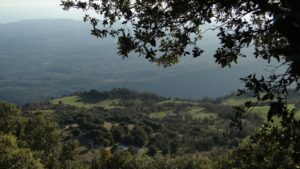 A few years ago I found out that you could volunteer abroad and I wanted to experience that. But for some reason I didn't have the time to look seriously. At the end of last year, I really started my search to make my dream come true and… here I am! I searched on the European Youth Portal page and, after analysing the opportunities that interested me the most, I knew that this was the experience I wanted to have. I was not mistaken: in fact, it has exceeded my expectations.
I've now been working for two months at the Domaine des Courmettes, one of the A Rocha centres in France. It's a private property, whose owners have delegated the management to A Rocha. The site is rich in biodiversity and serves as an ecological training centre. Various activities are carried out throughout the year, such as seminars, residentials, nature outings, scientific monitoring, and even weddings (to help cover operating costs).
The site offers various hiking trails, one of which passes by the Pic des Courmettes, which offers magnificent views.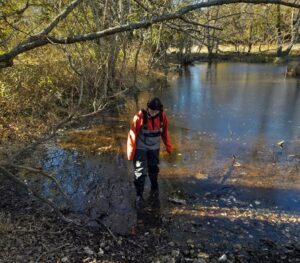 Now I am helping with different activities for the protection of the environment. I particularly like plants, so I will focus more on botany, although of course I will also help in other activities. In the near future, I will be involved in welcoming and educating the public who visit the site. For this, I am learning French. It's the first contact I have with this language, so it's a journey with ups and downs… I'm going little by little. There are days when my brain shuts down and I can't follow a single conversation, and others, when I wake up very motivated and eager to learn and improve. I was warned that this is the normal process of adaptation. When I have bad days, I try to remind myself that I am very grateful to have this opportunity and I want to make the most of it because it is an experience I will never forget.
Many volunteers come through here every year to help with various tasks, from field work to cooking and maintenance. But this is the first year there have been European volunteers at Courmettes.
In February, the seminar to welcome European volunteers took place in France. I had the opportunity to meet several young people who have similar experiences to mine. From what I saw, there are few who focus on environmental issues. Most of them work around social projects or in schools, so I feel lucky to have found a project that really motivates me. One of the activities we took part in was to do a small presentation of the place where we live. Most of the people in my group live in the north of the country, quite far away, but it also made me want to visit several of these places. France has a lot to offer. I would have liked this seminar to be face-to-face, but due to the Covid situation this was not possible. But it was still interesting and entertaining, and they gave us tools that we can use to adapt to our new life and deal with problems that may arise in our projects. Also, fortunately, in the middle of the year there is another seminar for volunteers whose projects last longer than 6 months and, if all goes well, it will be in person!
Well, that's my first two months in the South of France… I hope to continue to tell you about my experiences.
Until then: see you soon!