Courmettes Newsletter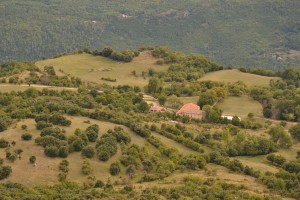 No one will be surprised to learn that the past weeks at Courmettes have continued to be very busy. Every weekend and sometimes during the week we have had a succession of different groups here. The last wedding reception of the season was held last weekend and the marquee will soon be taken down. But now is the time to prepare for next season. This is an opportunity to remind you that Les Courmettes is happy to welcome church groups, conservation groups and indeed families wanting to spend time in the natural environment and share some of the community life and devotions of the team.
Some of the significant events of these last two months: at the end of August we were glad to welcome a group of some 15 young people from a Mennonite church in Alsace for a week. They successfully completed various essential maintenance jobs here at Courmettes. We held a 'car boot' sale in October to try and 'recycle' a number of items which have accumulated over the years (without much success, but very enjoyable). A seminar entitled 'Freed in Jesus-Christ' organised by Claudine Jacquin-Robert and Ursula Tissot, was held at Courmettes from 17-19 October and was a great success with around 45 participants.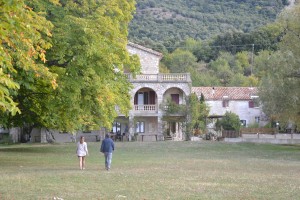 Renovation work: the new kitchen is now largely completed, apart from some the final pieces of work. René has already started to coordinate the work needed in the dining room next door (volunteers poised to help with this work). The next tasks are the construction of a ramp for disabled access (a legal requirement), upgrading to current standards for the fire detection, gas and electricity systems, replacement of the marquee flooring and quite a few other tasks (any more volunteers? ….) before we tackle the roof in the near future.
In the next few weeks we will be welcoming four new volunteers, several of whom will be with us for a few months. Aline and Samantha who are part of the A Rocha International science team, dealing with marine biology, under the supervision of Bob, Chris and Martin. They are both from Great Britain (Aline is Anglo-French). Jake and Sarah, Canadians, will also be with us in November to help develop training courses at Courmettes. We continue to have volunteers who come and help us regularly for several days at a time (Bernard and Blanche, Didier, and Felicity…) or for the day, like Frédéric, Ines and Bernard. Our thanks to them all.

Communications: Thanks to David Nussbaumer we've made a quantum leap forward: we now have a 'real' contact list which allows us to send out emails in a much more professional manner – you can subscribe to it here if you haven't already done so on our website; Les Courmettes will soon have a completely new and revamped Internet site, much more modern and attractive. The launch date is planned for 15 November at the latest, the date on which Les Courmettes will feature in the broadcast 'Présence Protestante' (Protestant Presence) on the subject: Christian response to environmental challenges'. The site will be launched just before the Lognes Evangelical Gathering at Lognes (21-23 November) where David, Paul and Jean-François will be manning the A Rocha stand. If you are there, come and admire the new leaflets on Les Courmettes and A Rocha which will be available very soon.
Recent weeks have been very busy with preparations for the different events A Rocha is organising around the Paris Climate Change Conference (COP21) at the end of November, beginning of December. The main event will be a bilingual conference on 5 December 2015 with some 10 speakers taking part (theologians, university faculty, etc.), including the Secretary-General of the World Evangelical Alliance (Efraim Tendero) and the American Evangelical Climate Scientist Katharine Hayhoe. For more information consult the web page: www.arocha.org/fr/COP21/conference
Jean-François MOUHOT