Hope 360: a daily challenge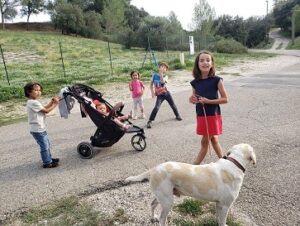 Daily life is 100% green energy!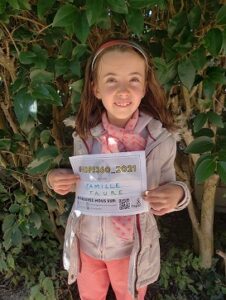 It's 8 o'clock and, as each morning, it's the rush hour… when everyone chooses their method of transport to school: bike, on foot or scooter! That's our family's daily morning start as we head for school.
So what could be more natural than to take up the Hope 360 challenge, by becoming "hopers" for a week (we joined the event for the final stretch!)? It's a gradual process, from the familiar start (taking the time to explain the concept of the project to everyone), maybe to breaking the record for the number of kilometres cycled as a family. Who knows?
A sporting challenge, but not just that…
What is certain is that beyond the acctivity, whose benefits (both mental and physical) can't be proven, this moment is rich in discoveries and sharing!
Rosehips (Cynorhodon) are good!
One of my sons, who is very observant, stopped me in front of these berries, which are somewhat different from the ones he is familiar with (such as Piracantha berries, which our children call "poison" and are everywhere in the neighbourhood; blackberries, sloe berries, ivy berries): it is the rose hip! It's a good subject when you tell your 6-year-old son that this plant is also called the "scratchy" plant… so no doubt he was listened carefully to my explanation:
"You see, this red part is in fact a false fruit because it is a simple receptacle that contains the real fruits (all small, often mistaken for seeds, by the way) of the rosebush and the dog rose. They have hairs on them, and in the old days, children used them as scratching hairs for fun."
Then to the inevitable question: "Can we eat them?" Yes, as long as you remove the inside of the false fruit, which contains the irritating hairs. Then I was naturally able to talk about the vitamins contained in fruit and vegetables – rosehips are very rich in vitamin C, and they are mainly used for jelly in our country! Raw, they are simply wild sweets, to be consumed without moderation…
We didn't take the time to pick some, but we'll go back soon to test it!
Burdock is not so easy to get rid of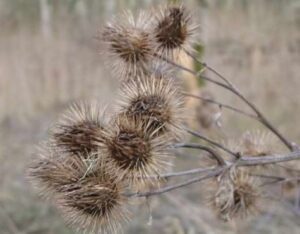 The other discovery of these country walks (we have the privilege of living in the middle of nature, the Alpilles massif being accessible on foot) was this involuntary guest that slyly colonized the bottom of my mesh waistcoat: the fruit of the Greater burdock (Arctium lappa). A dozen of these happy intruders came to cling very effectively in the folds of my clothing, from where I dislodged them not without difficulty! Indeed, these fruits have spines whose ends are formed of deformable hooks; these hooks get caught in hairs and looped fabrics, and then return to their initial shape once they are torn from a support.
This led to the invention of Velcro, the quick fastening system for clothing (and nowadays also for shoes) that we all know!
Nature is a source of inspiration and offers us an infinite site for developing new techniques. Let us not tire of drawing life-lessons and wonder from it!