Taking stock in the Vallée des Baux
With the end of autumn comes the end of field surveys. Winter is the time for data entry and report writing. What a joy it is to look back and see all the work that has been done!
Dozens of pairs of rollers have again reproduced in our nesting boxes this year, thousands of birds have been ringed/banded, new knowledge on the European pond turtle has been acquired, hundreds of birds, butterflies, reptiles, amphibians and dragonflies have been identified and counted.
It is time to report to our funders on the work accomplished and to open up the possibilities for next year: continuation of the study work on the Roller, a new study on reed-breeding birds and on bats, monitoring of the population of Southern festoon butterflies (Dianes in French), continuation of studies and monitoring on the Ilon nature reserve, not to mention nature outings and many other activities!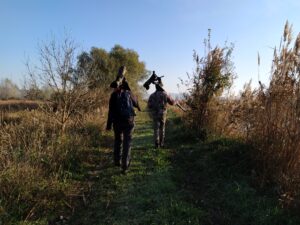 We have welcomed three volunteers over the last few weeks, who will be helping us with these tasks: Laura, a bat specialist from Hungary, Mar, a young Spanish biologist, and Gauthier, a naturalist from Auvergne on a six-month civic service assignment. Thanks to them all!
While waiting for spring, we are also busy with the maintenance of our network of nesting boxes and taking advantage of the proximity of our new premises to the Ilon Nature Reserve to make wonderful encounters: Eurasian bittern, Eagle owl, Bonelli's eagle among others!
Would you like to join us and take part in the conservation work of A Rocha France in the Vallée des Baux in 2021? We are looking for volunteers for the short, medium and long term! Contact Timothée Schwartz: [email protected]