Les Courmettes: Volunteer managing plums
The Domaine de Courmettes has several (wild) plum trees on the premises which produce large numbers of fruits every year. The main team is very occupied during these months and does not have the time to process the fruits. Because of this large quantities of fruit will often waste away in the garden. Therefore we are looking for volunteers during July and August to manage the processing of the fruits and limit our waste.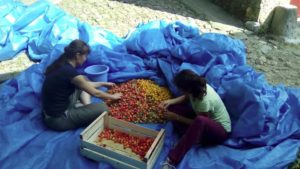 Who are we looking for?
We are looking for people that enjoy working on an independent project with diverse tasks. Your main task will be to limit the waste of plums by managing the large quantities of fruits. This will include, picking them up, sorting them out and processing them into jams and compotes. We are looking for people that are able to use their creativity to come up with low-budget ways to use the fruits. Besides that you will also be asked to participate in some of the general community chores, like washing-up and cleaning the toilets. We are looking for volunteers that enjoy working in an international team with a serving heart and respect for the Christian values of A Rocha.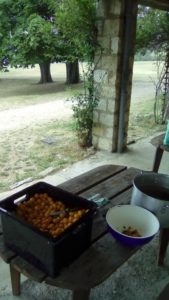 What do we offer?
As a volunteer you benefit from reduced rates, making your stay at Courmettes very affordable. For 15 euros a day you are allowed to camp on the Domain in tents. This will include all meals, showers and the use of a washing machine.
You will be working closely with the A Rocha France Courmettes team and stay at one of the most beautiful sites of Southern France. During your project you will be assigned a mentor, who will give you guidance and support. At Courmettes we live and work together on site, which will give you a great opportunity to experience community life. You will always be welcome to participate in team devotions, although it will never be obligatory. In your free time, we will encourage you to visit nearby villages or to discover the beautiful nature of Courmettes.
How to apply?
Please fill out our online volunteer application form, noting that you are applying as 'Volunteer Managing Plums'. After receiving your application we will contact you by email or skype for further selection. To apply, please fill out our volunteer application form.