A Rocha at the World Conservation Congress
The congress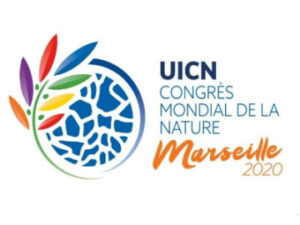 From 3 to 11 September, the World Congress of the International Union for Conservation of Nature (IUCN) will be held at the Parc Chanot in Marseille. This congress of international importance aims to advance nature conservation policies throughout the world. It usually meets every four years but this congress was postponed last year because of the pandemic. The previous congress, in Hawaii in 2016, brought together more than 10,000 participants, including a delegation from A Rocha.
A Rocha is once again actively participating in the congress. A Rocha is a member of IUCN and will be participating in the debates and votes. In addition, we will have two stands in the Congress Exhibition Hall (see below).A Rocha will be involved in the congress in two ways, through the congress itself (the "IN" congress) and in events around the congress (the "OFF" congress).
The "OFF": a rich ecumenical programme around the congress
A Rocha France has organised numerous events in Marseille in partnership with Eglise Verte, the Dioces of Marseille and the Protestant Federation. We invite you all to participate!
Saturday 4 September 9:00-10:30 – Church of Saint-Ferréol in the old port : Presentation of « église verte » (= Eco Church) for those who want to know how it works (many members of A Rocha will be present)
Saturday 4 September at 11:00– Eglise Saint-Ferréol au Vieux-Port : Ecumenical celebration: to praise our Lord and pray together with Catholics, Protestants, Evangelicals, Anglicans, Orthodox, Armenian Apostolics. The offering will be given to A Rocha France and the director of A Rocha will make a brief presentation about the association.
Saturday 4 September at 19:00 – Aperitif at the Basilica of Notre Dame de la Garde :  Meet up with Christians from near and from far away to share a convivial moment  (many members of A Rocha will be present)
Sunday 5 September, morning: services and masses, many Christian celebrations in different parts of the town.
Sunday 5 September at 17:00 – Lycée de l'Olivier, 12e: Ecolo Swing – Pièce de théâtre Sketch'up compagnie (reservation obligatory)
Tuesday 7 September,  19:00-22:00 – Œuvre de la Jeunesse JJA (5e) ; "Climate Fresco evening" in a Christian environment – Raising awareness of the causes and consequences of climate change through games for young and old
Wednesday 8 September, 19:30 – Temple Grignan (6e) : Taizé prayer vigil for the safeguarding of creation
Thursday 9 September, 18:00-22:00 – Temple Grignan (6e) : Workshop and round-table: "For an ecology of hope"
– Workshops 18:00 -19:30
– Round-table  20:00 -22h:00 (particpation of Timothée Schwartz, Science Director of  A Rocha France)
Find details of all these events on our Flyer.
The "IN": a rich programme on the inside
A Rocha will be involved by (1) running two stands and (2) involvement in a number of other activities
A Rocha will have two stands!
Find us from 4-9 September on our stands in the Exhibition Hall of the Congress during public opening hours:
Sunday 4 September, 10:00 to 22:00
From Sunday 5 to Thursday 9 September, 10:00 to 17:30
A Rocha will be on two different stands:
A Rocha International where members of the A Rocha International team, A Rocha France and A Rocha Ghane will be present (floor plan: L15)
Ecumenical stand run by Eglise Verte together with A Rocha, the Diocese of Marseille and the Protestant Federation of France (floor plan: O19)
Take the opportunity to discover the many stands in the exhibition hall and the "Espaces Générations Nature" area.
Various other activities
You can also You can also attend the presentations and conferences of the congress for one day (only 40€ for residents in France!) or more in person or even remotely. Click her for the full conference programme.
A Rocha will be involved in the following conferences during the congress:
All the information about A Rocha International at the congress is on the dedicated page of  A Rocha International.
We look forward to seeing you in Marseille!