Back to school for the ambassadors!
On 23 September, around 50 people participated in a Zoom for the Ambassadors programme.
Here are three videos of this meeting, separated into three important moments.
Presentation of the ambasadors network and the 2021-22 programme
Replies to three common questions, taken from training conferences for ambassadors
A Bible meditation on Romans 8:18–25
This meeting allowed us to benefit from the testimonies of Timothée and Katie, two of our committed Ambassadors who have experienced the distance learning courses (on Zoom) but also face-to-face at Courmettes this summer!
We were also able to launch the year in style with the announcement of the programme of monthly Zoom meetings which you will find below in its current state.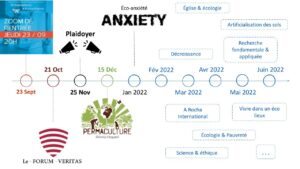 Participants were invited to suggest themes and speakers for the second half of the year. (If you also have ideas, please fill in this form!)
We also gave an update on events in the diary that were relevant to the network, presented the A Rocha Arts online choir project and other exciting news!
The meeting ended in small groups to meet each other and share, much appreciated by the brave ones who stayed until the end!
For the continuation, see you on 21 October, 2021 at 7pm for the Veritas Forum between Gaël Giraud and Jean-François Mouhot on the theme "Ecological crisis, what salvation for our planet?